Fed's outlook brightens. Is deflation still a threat?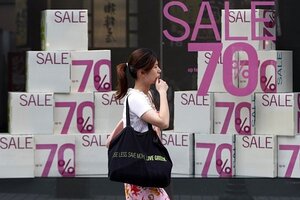 Issei Kato/Reuters
The threat of global deflation is waning.
Stock markets and commodity prices have rebounded and recession forces seem to be abating. Now, the Federal Reserve is revising upward its economic forecasts for the year, further pushing back concerns of coming deflation.
On Wednesday, the Federal Reserve released the minutes of its June meeting, in which it said the economy wouldn't contract quite as severely as it projected in April. Instead of a 1.3 to 2.0 percent contraction in gross domestic product (GDP), it was forecasting a 1.0 to 1.5 contraction.
As a result, inflation this year would be about half a percentage point above its April projection: in the range of 1.0 to 1.4 percent, it said. The Fed raised its inflation forecasts a bit for 2010 and 2011 as well.
So if deflation fears are retreating (and inflation fears advancing), why are some prominent economists still warning about declining prices, as the World Bank's chief economist did today?
Because deflation is a "slow burn," as Harvard economist Ken Rogoff explained to NPR. Once it takes hold, it tends to grind on.
---