US foreclosure crisis spreads to new states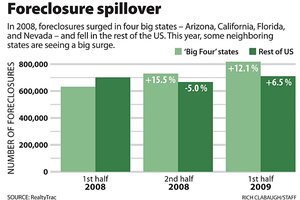 America's foreclosure crisis – which has been concentrated in Arizona, California, Florida, and Nevada – is beginning to spill over to neighboring states.
As a result, the fallout from the housing bubble looks increasingly likely to spread, pushed by a worsening economy, rising unemployment, and what appears to be a "bubble thy neighbor" effect.
Nationally, foreclosure filings rose 9 percent to reach 1.5 million in the first six months of 2009, according to a report released Thursday by RealtyTrac, an online marketplace for foreclosure properties. That's the highest total since the Irvine, Calif., firm began reporting the figures in 2005.
The 'Big Four' effect
What's striking, however, is where that growth came from. Last year, all the growth in foreclosures came from the big bubble states: Arizona, California, Florida, and Nevada. The Big Four saw foreclosures rise to nearly 730,000 in the last half of 2008, up 16 percent from the first six months of that year, according to data calculated from RealtyTrac's report. For the rest of the US, the number of foreclosures actually fell 5 percent to 667,000 during the same period.
Now, foreclosures outside the Big Four are beginning to rise (click on the chart at right). Overall, they climbed 12 percent for the Big Four and 6.5 percent for everybody else. In some states, such as Hawaii (up 53 percent) and Idaho (up 46 percent), they rose faster than any of the Big Four did.
---