Bernanke has exit strategy. Will he use it?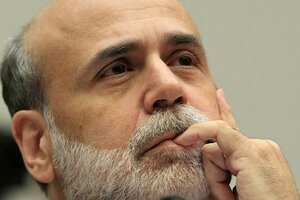 J. Scott Applewhite/AP
As the recession eases, the Federal Reserve's ability to unwind its huge fiscal stimulus is under increasing scrutiny. Wall Street has worried about it. Congress has asked about it.
Now, Fed Chairman Ben Bernanke has answered – sort of – in a Wall Street Journal op-ed and in congressional testimony Tuesday. The central bank "has the necessary tools to withdraw policy accommodation, when that becomes appropriate, in a smooth and timely manner," he wrote in his op-ed.
While that's reassuring, it's not what Wall Street is asking.
"His editorial is talking about the mechanisms of exiting," says Mark Rzepczynski, managing director of Lakewood Partners, a fund-management firm here in Boston. "The real [issue] is whether the Fed has the will to act."
By most counts, Mr. Bernanke has pulled off a great first act. He saved the financial system from a potentially disastrous meltdown, working effectively with first a Republican and then a Democratic White House. His bold moves to lower interest rates to near zero has eased the credit crunch and, arguably, shortened the recession.
---