US consumer confidence falls – as world's rises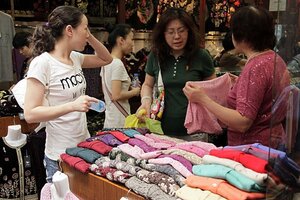 Eugene Hoshiko/AP/File
American consumers are a finicky bunch.
Their confidence rose in the depths of the Great Recession this spring. Now, as the contraction eases, they're turning pessimistic again. Consumer sentiment fell for the second month in a row, The Conference Board reported Tuesday.
The decline is an important signal.
If consumers aren't confident, they're less willing to buy. With consumer spending making up roughly two-thirds of the economy, any rebound without consumers is likely to fare poorly.
"If this is a recovery, it is a very weak one characterized by frequent relapses," wrote Paul Ashworth, an economist with Capital Economics in Toronto, in an analysis. "The lack of any sustained and significant improvement in confidence is a big concern."
That decline in optimism stands in sharp contrast to the upswing going on in other major nations from Argentina to Indonesia (see chart.) From March to June, the Nielsen Global Consumer Confidence Index rose five points, with 23 nations posting an increase. Only the US and France (flat) and Germany and New Zealand (down 1 point) bucked the trend.
---