Microsoft-Yahoo deal: a costly distraction?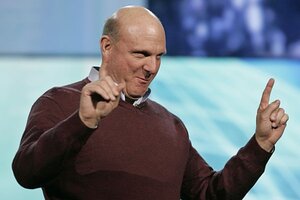 Paul Sakuma/AP/File
The new Microsoft-Yahoo! deal is a win-lose agreement for the companies ... and, possibly, a costly distraction.
Yes, the deal announced early Wednesday allows Yahoo! to focus on its strength: selling online advertising. It also will give Microsoft's new Bing search engine nearly 30 percent of the online search market and a shot at competing with juggernaut Google.
But while Yahoo! consolidates and Microsoft plays catch up, what is Google doing? Working on the next generation of Android, its open-source operating system for smartphones.
If you were the business strategist for one of these companies, where would you see the most potential: search-related display ads or smartphones?
The first is a big moneymaker. Search technology may give Microsoft the edge it needs to compete in the fast-moving technology space. Here's how Business Week analyzed the Microsoft-Yahoo! deal:
Microsoft agreed to let Yahoo keep 88% of the revenue on ads that appear on Yahoo sites. But Microsoft will nevertheless reap a reward that's more valuable in the long run. The data on computer users' online search and buying habits would ultimately reside on Microsoft's computers, thereby improving its ability to automatically serve up the most relevant ads.
---