Six ways bosses can cut your pay – and what to do about it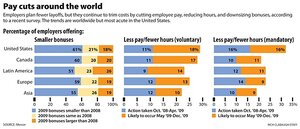 Did you survive the massive layoffs of 2008 and early 2009? Congratulations. Now, watch out for the pay cut.
It probably won't come as a direct salary or wage reduction. Managers know that's demoralizing. So they're finding other, more creative ways to trim. Here are six to watch out for:
1) Delay the start date. Some law firms are waiting months before bringing their new hires onboard and, in some cases, lowering starting salaries, the Federal Reserve Bank of Dallas reported in its survey of business conditions released Wednesday.
2) Raise the pay, lower the benefits. The Federal Reserve Bank of Boston said while two-thirds of the companies it surveyed had raised worker pay this year, some had also cut benefits or announced delays in future raises.
3) Cut the retirement plan. Media General, owner of the Richmond (Va.) Times-Dispatch and other newspapers, announced in January that it would stop matching employee contributions to their 401(k) retirement plans at least through the end of the year. It joins more than 260 US companies that have announced plans to change or suspend matching contributions, according to the Pension Rights Center.
---