Does 'cash for clunkers' work?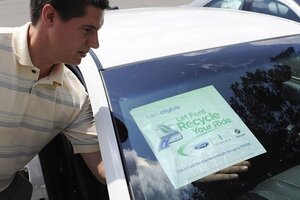 Reuters /Jonathan Ernst
"Cash for clunkers" is the best stimulus this side of the New Deal. Or a huge boondoggle that cost American taxpayers $20,000 per car sale.
That's the debate now going on in Washington as the US Senate decides whether to extend the wildly popular program that ran out of cash after only a week. Who's right depends on whether you believe in the power of consumer psychology.
Even auto industry observers differ. But many say most of the trade-ins under the federal program — which effectively gives car owners up to $4,500 to trade their gas guzzlers for new, fuel-efficient cars — would have happened without the rebate incentive.
"We've just concentrated a lot of the economic activity in one short period of time" and one sector, says Mark Vitner, a senior economist at Wells Fargo. He thinks the "vast majority" of July's trade-ins would have occurred at some point.
Every month, Americans trade in 60,000 to 70,000 clunkers without any government incentive, says Jeremy Anwyl, CEO of auto-industry tracker Edmunds.com. He estimates that only about 50,000 of the trade-ins under the program wouldn't have occurred otherwise, which means that with the $1 billion in funds spent on the program, each incremental sale came at $20,000 a pop.
---