In Indiana, Obama sells small side of stimulus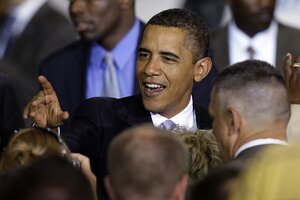 Michael Conroy/AP
When it comes to targeting the federal government's recovery money, small is beautiful.
Bail out big banks? Unpopular. Buy AIG? Nah! Prop up automakers? C'mon! Who's going to get reelected saying "I grew Fiat"?
So when officials of the Obama administration fanned out across the US Wednesday to showcase $2.4 billion in federal grants to develop next-generation electric cars, they didn't trek to the Big Three.
Commerce Secretary Gary Locke went to Kansas City, Mo., to announce a $10 million grant to Smith Electric to build up to 100 electric vehicles. EPA Administrator Lisa Jackson visited St. Petersburg, Fla., to highlight a $95.5 million grant to Saft America to build a new lithium-ion batteries. President Obama traveled to a Navistar electric-vehicle plant in Wakarusa, Ind., (Wakarusa?) as a backdrop for a speech on the economy and the stimulus.
He emphasized how the stimulus was helping small folks.
---