Jobless? Here are 10 zany opportunities.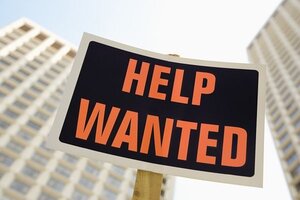 Newscom
US job losses are slowing. Initial claims for unemployment benefits dropped an unexpected 38,000, the Labor Department reported Thursday. That's further evidence that the economy is healing, although job losses may continue for some time.
We're doing our part to buck up employment. Each week Monitor staffers comb the job listings in search of interesting places to work. The most intriguing jobs we found this week are in Glen Rock, N.J.; Flint, Mich.; Davenport, Iowa; Austin, Texas; Hallandale, Fla.; Portland, Ore.; Ferndale, Mich.; Doral, Fla.; and Washington, D.C.
Like parties? You could celebrate a birthday every day.
1. Pet fashion blogger
Employer: PamperedPuppy.com
Wages/salary: $13 a post
Details: Describe new products in sassy, fashion-savvy, pet-loving voice. (For more information click here.)
Location: N/A.
---