US job losses slow. Time to curb your pessimism?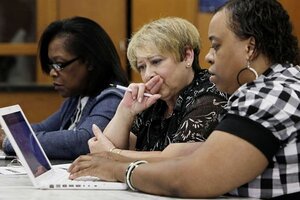 Paul Sancya/AP
Recessions spawn gloom. Deep recessions create so much gloom that good news – like Friday's much-better-than-expected jobs report – comes as a jolt.
It shouldn't, says Lakshman Achuthan, of Economic Cycle Research Institute, who makes his living predicting the ups and downs of the economy. It does only because of the "giant error of pessimism."
The pessimism works this way: Last month, 247,000 Americans lost their jobs, the Department of Labor reported Friday. In a run-of-the-mill recession, that would be a disaster, points out economist Paul Ashworth of Capital Economics.
But in the context of this grinding recession, it represents an improvement. July's job losses were the smallest since August 2008. Most analysts were expecting July's job losses to be far higher.
The unemployment rate also improved – declining from 9.5 percent in June to 9.4 percent in July – but for all the wrong reasons. The labor pool shrank as more Americans gave up actively looking for work and thus were no longer counted.
---