Home prices at record highs in six US cities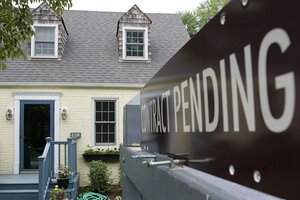 Richard Clement/Reuters/File
The future of America's housing market is already happening far from the big-city limelight.
It's occurring in places like Amarillo, Texas, and Buffalo, N.Y., where prices are not only rising, they're moving to record highs, according to a new report.
That's right. People are buying homes there because they believe that housing prices will continue to go up. It seems like a quaint notion today, but it was established fact for generations of Americans from World War II to 2007.
Sometimes, the price rise is tied to the fortunes of local industries – oil in the case of Beaumont, Texas, and healthcare and the military in the case of Shreveport, La. Mostly, though, it's happening in cities like Bismarck, N.D., which never saw the huge run-up in housing prices that engulfed much of America.
"They did not encounter a bubble so there was nothing to pop," says Lawrence Yun, chief economist of the National Association of Realtors, which released Wednesday its quarterly report of housing trends in 155 metropolitan areas. "These are the areas of the market that are highly affordable."
---