Home Depot earnings stoke optimism. Is it misplaced?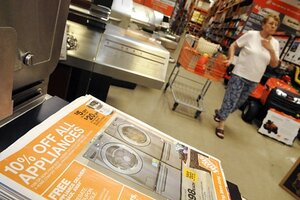 Lisa Poole/AP/File
Investors are like basketball players in one sense. They'll scramble after a good company whose sales are hitting the floor because they expect they will rebound.
So when Home Depot announced second-quarter earnings Tuesday that beat analysts' expectations, its share price went up.
But what if Wall Street's expectations game doesn't apply to housing? What if, instead of a basketball, investors in the housing sector are playing with, say, a ripe cantaloupe?
The US housing slump has gone on for so long and let so much air out of housing-related industries that the bounce, when it comes, could be very messy – and only slightly up.
Consider your own home. Sure, there are lots of improvements you could make. But in an era where housing appreciation is no longer automatic, those improvements start to look more expensive and, probably, less necessary.
That translates to fewer trips to Home Depot or Lowe's, whose stock plunged 10 percent Monday after it reported its second-quarter profits fell 19 percent.
The challenge was summed up neatly by a commenter about Market Watch's story on Home Depot (HD): "The problem for HD is the 'upgrading' part of the market, built around constantly rising home values, will not come back. We are looking in the years ahead for people to 'fix what is broken.' "
---