Out of work? This week's most intriguing job offers.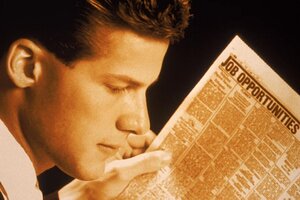 Newscom
Our economy is showing tepid signs of perking up. But even as the recession appears to be ending, a growing number of Americans will need of a plain ol' job.
That's why each week Monitor staffers comb the job listings in search of interesting places to work. The most intriguing jobs we found this week are in Rome, Ga.; Fort Wayne, Ind.; Hawthorne, Calif.; Logan, Utah; Canyonville, Ore.; Stephenville, Texas; and Cambridge, Mass.
Wondering what you'll do with that doctorate in myrmecology? (Hint: the study of a particular insect that's black, red, or brown.) We've got you covered.
---