'Cash for clunkers' helped foreign automakers more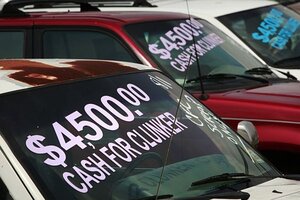 Matt Rourke/AP/File
The "cash for clunkers" program helped Ford – and Toyota. Chrysler saw auto and light-truck sales rise 5 percent in August from July's total; Hyundai set a new US sales record.
That's the challenge with government stimulus programs. Paid for by one nation's taxpayers, they can help the companies of another.
This leakage across borders doesn't create much political tension as long as trading partners are also stimulating their economies. Or, as in the case of several of the automakers, the production is locally based.
Ford saw its sales of cars and light trucks jump 17 percent in August from the same period a year ago. But that was unique among the US automakers. General Motors saw sales fall 20 percent. Despite the small sales increase from July to August, Chrysler also saw its year-over-year sales decline – a 15 percent drop.
The federal stimulus certainly helped several Asian automakers. Hyundai's sales rose 47 percent year-over-year, hitting a record. Toyota was up 10.5 percent – and its car division enjoyed its best month ever. Its North American-built vehicles accounted for all the increase – and more. Sales of imported Toyotas actually fell 7 percent year-over-year.
---