US no longer world's most competitive nation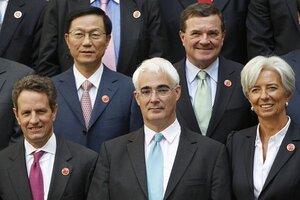 Lefteris Pitarakis/Pool/Reuters
The global financial crisis is damaging the medium- and long-term growth prospects of many nations.
It has knocked the United States from its perch as the world's most competitive economy (it's now No. 2, right behind Switzerland), according to the World Economic Forum's global competitiveness report released Tuesday. It has dimmed the outlook for all but a handful of countries. And it has created a fissure in the bloc of big emerging-market countries known as the "BRIC" nations.
The global economic downturn was a big reason for the US losing its top spot to Switzerland in this year's report, which measured a broad range of factors affecting an economy's business climate. Not surprisingly, confidence in its financial institutions and its auditing and accounting standards deteriorated in the wake of the crisis. America's increased borrowing to fund its stimulus programs has also provoked concerns about its long-term debt. Its rating for macroeconomic stability, which assesses nations' debt loads among other things, tumbled to 93 this year, behind Mexico (28), Panama (46), and Uganda (73).
"It looks like one of the main consequences of the current financial crisis has been massive [US] government intervention that will leave huge macroeconomic imbalances, especially big, big, big budget deficits," said Xavier Sala-i-Martin, a Columbia University economist and author of the report, in a video released with the index.
---