How can the unemployment rate fall when job losses go up?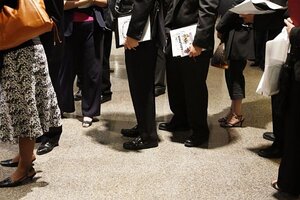 Matt Slocum/AP
In some states, the labor market is stabilizing, the Department of Labor reported Friday. Eight states have seen their unemployment rate drop by at least 0.2 percentage points over the past two months. North Carolina and Vermont are on a three-month streak.
Time to party in Raleigh and Montpelier? Music? Noisemakers?
Not yet. Not in Raleigh, anyway. North Carolina's falling unemployment rate disguises job losses still afoot in the state. But the Tarheel State tells a good story about how misleading unemployment rates can be in times of economic distress.
Ever wonder why more workers can lose their jobs but the unemployment rate goes down? Or the number of jobs rises but journalists like me report – with a straight face – that the unemployment rate went up?
Let North Carolina and Vermont explain.
Tarheel blues
On the face of things, the Tarheel State is heading in the right direction. After reaching record 11.1 percent unemployment in May, its jobless rate fell to 10.8 percent by August. But 47,000 people left its labor force during that time, many of them because they quit or were laid off and they either moved away or stopped looking actively for a job.
---