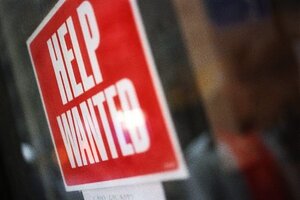 Newscom
This week's Top 8 has coast-to-coast flavor. Willing to squat for pay in San Diego? Want to fire up your computer in the service of ethical hacking in Maryland? Got jumping ability? In Atlanta, you could put it to work.
1. Squatter
Employer: The Lobster Bakers
Wages/salary: Hourly, amount TBD
Details: Required to secure sites for Lobster Bakers' events. Also be responsible for being at the site when the warehouse arrives with the equipment and set up any stands, canopies, or other equipment.
Location: San Diego (pop. 1,264,263, median family income $72,407) is home to the San Diego Zoo, which has the largest zoo membership in the world with over 250,000 households.
2. Ethical hacker
Employer: Not listed.
Wages/salary: $90,000-$140,000
Details: Expert understanding of system security engineering needed for developing and testing software security tools.
Location: Maryland
---
Follow Stories Like This
Get the Monitor stories you care about delivered to your inbox.