Is Jeffrey Skilling the worst boss ever?
(Read article summary)
Jeffrey Skilling will get a Supreme Court hearing. Could any bosses be worse than the ex-Enron chief? Here's five.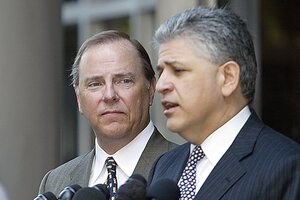 James Nielsen/AFP/Newscom/File
Jeffrey Skilling was the poster boy for corporate deceit before poster boys for corporate deceit were in vogue.
Now the Supreme Court is going to reconsider his 2006 conviction on charges that fraud by him and other top executives destroyed the world's then-largest energy trader, wiping out pensions and employees' life savings in the process.
Mr. Skilling has long alleged that he didn't know about Enron's shoddy accounting practices and risky business deals. He claims he didn't dump his shares of Enron stock and step down days before the company's collapse because he wanted to get out while the getting was good.
The scale of Enron's losses would seem to guarantee Skilling a place in the pantheon of bad bosses. Sadly, he has a lot of company. Here are five qualities that make a bad boss — and real-world examples of what to avoid.
1. Looking Out For No. 1
After rocketing to the mayor's seat in Detroit at the age of 31, Kwame Kilpatrick allegedly threw raucous parties at the mayor's mansion, charged thousands to city credit cards, and was accused of blocking a murder investigation. He really got into hot water in a salacious text messaging scandal. Ultimately, the mayor's legal missteps cost the city $9 million. Now, after 99 days in jail, the man once known as the hip-hop mayor told a Detroit judge that he had only $6 per month to pay back the $1 million in restitution he was ordered to pay due to the text message scandal. Then he moved into a rented million-dollar mansion in Southlake, Texas.
---