Job hunting? This week's Top 7 intriguing offers.
(Read article summary)
A look at seven intriguing job offers.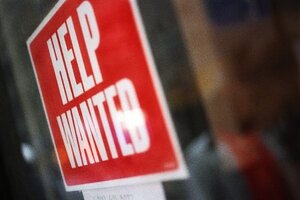 Newscom
Every week, we search the job listings for the most unusual positions out there. This week's entries stretch from Menlo Park, Calif., to Washington, D.C. – and promise to stretch your capabilities. Smoke artistry, anyone?
1. Guinea Pig Fosterer
Employer: Metropolitan Guinea Pig Rescue
Wages/salary: No salary, but you get free vet care, cage, and supplies for foster pigs.
Details: Provide good, loving homes to temporarily house guinea pigs until they are adopted.
Location: Virginia, Maryland and the District of Columbia.
2. Senior e-Commerce 'Rock Star'
Employer: Tickle Industries
Wages/salary: Not listed.
Details: Looking for an experienced Magento e-commerce developer. Fluent in PHP/MySQL: "Have written it while asleep on at least one occasion."
Location: Winston-Salem, N.C. (pop. 213,889, median family income $51,668) is the headquarters of Krispy Kreme Doughnuts.
---