World markets fall on weak US housing
(Read article summary)
World stock markets fell in the wake of poor housing data.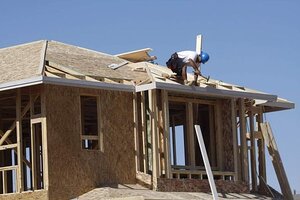 Joshua Lott/Reuters
•Weak housing fallout: World markets faltered in the wake of weak US housing data. Home-building permits fell by the largest amount in five months, the Commerce Department had reported, a discouraging signal for US economic recovery -- and markets from Europe to Asia.
•Luxury sales: In China, the market for high-end goods is expected to surge by 12 percent this year, bucking the downward trend seen in other major economies buffeted by the financial crisis. The world's largest markets -- the US and Japan -- are forecast to see sales drop by 16 percent and 10 percent respectively.
•Bad auto management? In the midst of the worst downturn in car sales in decades, GM's and Chrysler's management was "stunningly poor," the former head of the Obama administration's auto task force wrote in a Fortune article. Steven Rattner said he was particularly shocked at GM's docility and arrogance, but added that the automaker bailouts were crucial to keeping the economy from collapsing.
---