BCS rankings: Top 25 teams by the dollars
(Read article summary)
Among the BCS rankings' top 25, all teams are not economically equal. Which teams bring home huge profits for their schools?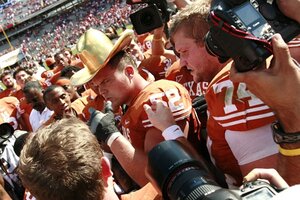 Newscom
If you're a college football fan, you probably adhere to some brand of the Al Davis doctrine: "Just win, baby."
But big-time college powerhouses are run like big businesses: They recruit, spend millions of dollars a year, and usually turn a profit. So if there were a BCS of profitable college football teams, who would come out on top?
To get a handle on that answer, we compared college expenses and revenues of this year's BCS top 25 squads using 2007 data from the Department of Education (2008 isn't available yet). Four of the top 25 BCS teams are private – No. 5 University of Southern California, No. 6 Texas Christian University, No. 19 Miami, and No. 23 Notre Dame – so they don't have to report their data. Of the remaining 21 teams, here are our top picks by biggest profits, wins per dollar, and lowest spending per player.
Bottom line superstars
---