Cash for clunkers: Real stimulus or political boondoggle?
(Read article summary)
The debate over cash for clunkers is the first skirmish over the legacy of Obama's stimulus program.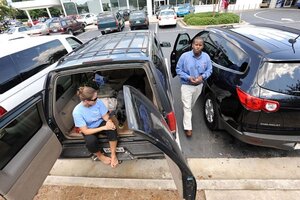 Newscom
Those gas-guzzling, rusted jalopies that Americans ditched for new rides under the cash for clunkers program this summer were supposed to find a quiet resting place in junkyards across the country as the US economy accelerated forward into recovery. But the clunkers refuse to die.
Instead, they have become the subject of increasingly heated debate over how much the cash for clunkers program cost the US taxpayer. On Tuesday, the National Automobile Dealers Association (NADA) fired the latest salvo, issuing its estimate of $4,587 per new car traded in for clunker. That's less than a quarter of the $24,000 per new car that automotive website Edmunds.com estimated last week.
To recap the recent clunker cost warfare: After Edmunds.com published its estimate, the White House rebutted it, saying it was an attempt to generate publicity. Then Edmunds rebutted the White House's rebuttal.
---