Do college presidents need a pay czar?
(Read article summary)
While the top 25 best compensated, bailout-taking CEOs saw their salaries dip, the top 25 highest paid college presidents saw largely smooth increases. Does higher ed need a pay czar?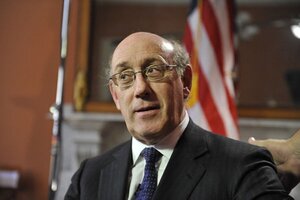 Newscom
Updated 3:10 p.m. EST with spreadsheet of data used in this report. 
Somebody needs to get Ken Feinberg a ladder.
That's because after the president's "pay czar" finishes mastering Wall Street pay, he might try storming America's ivory towers.
Between 2007 and 2008, the top 25 highest paid college presidents saw their total compensation rise roughly 25 percent while the top 25 highest-paid CEOs receiving government bailouts saw their's fall nearly 17 percent, according to data from the Chronicle of Higher Education's database (subscription required) and the AFL-CIO. (The data is for fiscal years. The AFL-CIOs statistics include the total value of stock options and awards during a given fiscal year, not only those that vest during that year.)
Private university presidents saw a gain of 28 percent while public university presidents increased by just under 24 percent.
What accounts for the discrepancy? First, college presidents didn't engineer the near collapse of global commerce. Second, the argument is often made that many university presidents could be or have been executives at much higher compensation levels and gradual pay increase make universities more competitive against the private sector.
But while corporate bottom lines have taken a historical beating, so have college endowments, with a much slighter effect on executive pay during the years in question.
---