Home-buyer tax credit: more questions answered
(Read article summary)
The home-buyer tax credit spawned enthusiasm from the real estate industry and some confusion from prospective home buyers. Here are several questions answered.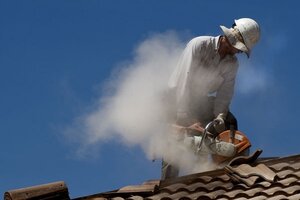 Newscom
When Congress moved extended the first-time home-buyer tax credit Thursday, it also allowed existing homeowners to participate in the program. After reporting on who the new program would help, readers already in the process of selling and buying homes had questions. Although we don't know the specifics of any particular case, here are some answers based on general principles.
Jorge: "When does the program start? I already signed a contract, it closes in December & have owned our house for 11 yrs…. Do we qualify for the $6,500 credit?"
Answer: You qualify, says Robert Dietz, economist for the National Association of Home Builders. The bill will become law when the president signs it, which was expected to be Nov. 6. In general, Mr. Dietz says, home buyers who close on their house after the bill is signed qualify.
Melissa:"My husband and I were transferred from (Texas) to (Indiana) over the summer for his job. We had owned our home in (Texas) for 11 years. We closed on our new (Indiana) home in August 2009. If the tax credit will be retroactive, we qualify in every other way. Anyone know if we will qualify for this tax credit, or if we're going to get taken for $6,500 just because we bought a few months too soon?"
Answer: Unfortunately, the bill has no "grandfather" clause, Mr. Dietz says. "If you're an existing homeowner, and they've closed prior to the date of enactment, when the president signs the legislation, they simply do not qualify."
---