Is Modern Warfare 2 killing office productivity?
(Read article summary)
Modern Warfare 2 may well set video game sales records. Might it also result in plummeting office productivity as well?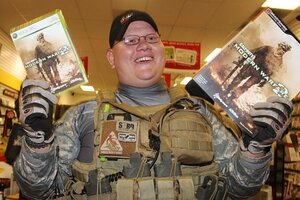 George Nikitin/AP
Is there a link between swine flu and Modern Warfare 2? Only when you want to get off from work.
"I know a number of people who have called in erroneously sick," to play America's latest gaming sensation, says Woody Tondorf, a producer for the website Break.com. "Even some bosses called in with a 24-hour case of the swine flu."
On message boards and comment sections across the Internet, Call of Duty loyalists are swearing that they're taking a day (if not several) off from work to play Modern Warfare 2, which went on sale Tuesday. But whether they're coming distracted to the office or hammering away at their keyboards or controllers at home, human resource managers agree: They're costing the company money.
"Incidental unplanned absences" (such as calling in sick) were the most costly of all work absences, according to a 2008 survey by Kronos, a workforce management consulting firm. They caused a 21 percent net loss of productivity, 5 percentage points higher than planned absences.
But might it be better for employees to stay home and get the gaming bug out of their system rather than live a distracted day at the office? Mr. Tondorf, who picked up the game at midnight and played until 4 a.m., allowed he probably wasn't the most focused employee on Wednesday.
---