Veterans day appreciation: Top 5 veterans in business
(Read article summary)
On Veteran's Day, Americans celebrate those who served the country as members of the military. But after trading fatigues for suits, here are the top 5 veterans who have left their mark on the business world.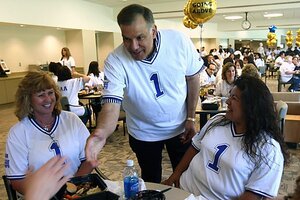 Newscom
On each Veterans Day, the nation remembers the service of American men and women in uniform. After their time in uniform, however, some US veterans have made their marks in the business world.
Sometimes, these GIs-turned-CEOs have gotten into rough spots. James Cayne, an Army veteran, led Bear Stearns right off a fiscal cliff. And Robert Benmosche, formerly of the Army Signal Corps, signed on in August to lead AIG out of the financial wilderness — and then this week allegedly told the board that hired him that he wanted to quit.
But quite often veterans are loyal and effective chief executives. A 2006 study by Korn/Ferrey International found that CEOs with military backgrounds both lasted longer than their totally civilian counterparts in the boss' chair and outperformed the S&P 500 index in periods of 3, 5, and 10 years prior.
Here is a list of the top 5 American veterans to have made their mark in the economic sector.
5. George Steinbrenner, Owner, New York Yankees
Branch of Service: Air Force.
---