Eggo waffles: Kellogg allots scarce supply
(Read article summary)
Not all customers will get their Eggo waffles back at the same time as Kellogg recovers from several production setbacks.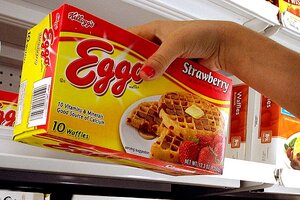 Newscom/File
As Eggo Waffles become rare on store shelves, due to problems at Kellogg bakeries, the company is rationing them -- and may continue to do so through mid-2010.
"We are working around the clock to restore Eggo store inventories to normal levels as quickly as possible," wrote Kellogg spokeswoman Kris Charles in an e-mail. "In the meantime, we're allocating available product to customers based on historical percentage of business."
So which regions might get their Eggos back first? Mrs. Charles wouldn't say, adding only that Kellogg has "loyal Eggo consumers across the country."
Eggos are in short supply because two of the company's four frozen-waffle facilities have had operational problems in recent months. In September, Kellogg announced it had shut down its Atlanta plant after a Georgia Agricultural Department test revealed the bacteria listeria in a sample of Kellogg's Buttermilk Eggo Waffles. Listeria has been linked to meningitis and encephalitis, according to the Food and Drug Administration.
Kellogg issued a recall of two of its products, totaling 4,500 cases, although no illnesses had been reported.
---