Wal-Mart Black Friday sales for 2009: The story behind the leak
(Read article summary)
With the release of Wal-Mart's Black Friday Sales for 2009 ad, the retail giant attempts to walk a fine line between using and being hurt by the Internet.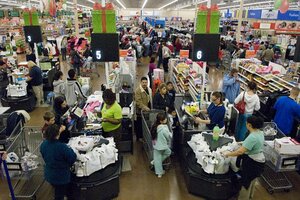 Newscom
Updated 11:15 a.m. EST with comment from Wal-Mart.
Wal-Mart's Black Friday sales for 2009 are now alive in full color on the Internet. From door-buster TVs to a $198 laptop to a $59 GPS system, the retail titan's Black Friday plans have been laid bare at last.
Where just this past weekend Wal-Mart was brandishing its brace of lawyers at the leak of several movie and videogame prices, Wednesday it OK'd the release of its entire clutch of Black Friday secrets ahead of its own Nov. 23 release date.
Why the change of heart? The move speaks volumes about a company trying to harness the Internet's viral power while not tipping its hand too soon.
Over the weekend of Nov. 15, a user on a forum hosted by the website DVDTalk.com posted Black Friday prices for several DVDs, Blu-Rays, and videogames.
Since Wal-Mart had already sent letters this summer warning websites like DVDTalk and others not to publish its Black Friday deals early, what happened next came as no surprise. The company's lawyers quickly contacted the site's owners, Internet Brands Inc., and demanded that the post be removed. DVDTalk took the item down.
"We try to be good corporate citizens. While we didn't editorially post it, we respect everyone in the retail space," says DVDTalk director Brent Conver.
Then on Tuesday, Wal-Mart confirmed the price of six Black Friday items to CNN. After a user e-mailed him a high-quality copy of Wal-Mart's Black Friday circular, BlackFriday.info founder Jon Vincent called the company to negotiate its wider release and was allowed to publish the entire flyer Wednesday.
---