On Black Friday sales 2009, can Amazon compete with Wal-Mart?
(Read article summary)
Retailers are pulling out all the stops for Black Friday 2009. But can anyone compete with Wal-Mart?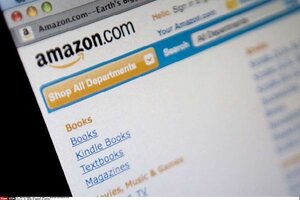 Newscom
Until Wednesday, Wal-Mart was siccing its legal team on websites of all types to keep its Black Friday 2009 deals from lighting up cyberspace. At the same time, Radio Shack was e-mailing scanned copies of its "Shack Friday" circular to the news media.
The lesson? Wal-Mart runs the Black Friday show. All others need to hustle to keep up.
But can they?
Many Black Friday watchers are skeptical. Because Wal-Mart maintains lower prices with similar profit margins, the initiative belongs to the Bentonville, Ark.,-based corporation.
"It all depends on how deeply Wal-Mart wants to cut prices. It's kinda throwing the ball up in the air in terms of Wal-Mart and seeing how it trickles down to the other retailers," says Steven Rogé, portfolio manager at R.W. Rogé & Co., a financial-management firm in Bohemia, N.Y.
There is one retailer that might (at least eventually) take a bite out of Wal-Mart: Amazon.com.
"Black Friday has traditionally been an in-store shopping holiday, but it has also creeped online in a big way as well and merchants have incredible deals online for those people who don't want to fight the crowds in the stores. This has made a way for Amazon to get into the game," says Luke Knowles, co-founder of Internet coupon distributor Coupon Sherpa.
Amazon's power derives from the migration of consumers to online shopping combined with advances in mobile technology that makes comparison shopping more comprehensive and immediate than ever.
---