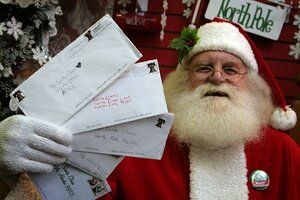 Sam Harrel/AP
Fewer children will get their letters to Santa answered this year.
Tight budgets and tougher privacy protections have forced the US Postal Service to scale back its Operation Santa program, where volunteers help postal workers answer children's letters to St. Nick. Some residents of North Pole, Alaska, think the post office is being a Scrooge. "It's Grinchlike that the Postal Service never informed all the little elves before the fact," Mayor Doug Isaacson told the Associated Press. Volunteers there will no longer be answering thousands of children's letters, a tradition that stretches back to 1954.
But the postal service is in a bind. It has a supported the Operation Santa program since it began in New York City in 1912. What's changed is that last year, about a week before Christmas, it discovered that one of its Operation Santa volunteers in Maryland was a registered sex offender.
Postal officials discovered the problem before the child was in danger, but they shut down the program anyway for three days, instituted new privacy procedures, and then reopened it in the two cities that handle the most Santa mail: New York and Chicago.
---