US foot-dragging dims hopes for world trade deal
(Read article summary)
Chances of world trade deal look remote in part because the US has other bigger priorities.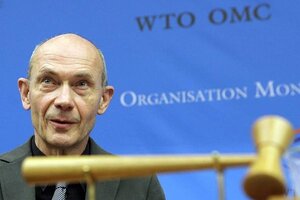 Denis Balibouse/Reuters
Prospects for reaching a deal in the eight-year old Doha Round of global trade negotiations were remote; now, they're truly distant.
On Nov. 30, trade ministers of the 153-nation World Trade Organization (WTO) hold their ministerial conference in Geneva , but their agenda doesn't even mention negotiations. It is officially defined as a "housekeeping" session. Since they only meet once every two years, that's a little like hosting an Olympics without scheduling any sporting events.
An impediment to a deal is the United States , which is a switch from the past. The Geneva session will open precisely 10 years after a similar ministerial meeting in Seattle exploded with violent protests outside and disagreement inside on starting the current trade round. Despite that resistance, the US pushed for and other nations agreed to launch the Doha Round in late 2001, amid widespread sympathy fostered by the 9/11 terror attacks two months earlier.
Part of the problem today is that the Obama administration is up to its neck in other issues, including healthcare reform, financial-markets regulation, labor issues, global climate, and what to do with the Bush tax cuts when they expire, says Harald Malmgren, a Washington consulting economist who helped negotiate the successful Kennedy Round of trade talks decades ago. So trade matters are going to have to wait.
---