Black Friday deals: Are consumers facing them in a 'frugal' mood?
(Read article summary)
Although retailers are hawking Black Friday deals, will consumers be in a mood to take them up on their offers?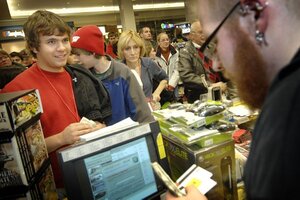 Glen Stubbe/Minneapolis Star Tribune/MCT
Updated at 1:30 p.m. EST with details from new National Retail Federation survey.
For retailers, the scheme is simple: Pitch the hottest Black Friday deals and watch consumers flock to their stores.
That is, of course, if consumers are feeling confident enough to spend early and often this holiday season. Recent surveys suggest this might not be the case.
Consumer confidence registered an ever-so-slight increase in November, ticking up to 49.5, eight-tenths of a point higher than October.
"The moderate improvement in the short-term outlook was the result of a decrease in the percent of consumers expecting business and labor market conditions to worsen, as opposed to an increase in the percent of consumers expecting conditions to improve," says Lynn Franco, director of The Conference Board Consumer Research Center, in a press release Tuesday. "Income expectations remain very pessimistic and consumers are entering the holiday season in a very frugal mood."
The Consumer Confidence Survey polled 5,000 Americans monthly and is published by the Conference Board.
These findings track with other surveys on holiday shopping. One such piece of research by consultant group Convergys, a customer interaction and human-resources consulting firm, shows that consumers were planning on reducing their spending (approximately 50 percent of respondents) or keeping spending constant relative to their income (40 percent). That's bad news for retailers, considering 2008 saw a 3.4 percent drop in holiday spending from 2007.
---