What you need to know about the Stork Craft crib recall
(Read article summary)
With 2 million cribs in question, the Stork Craft crib recall affects all drop-side cribs built between Jan. 1993 and Oct. 2009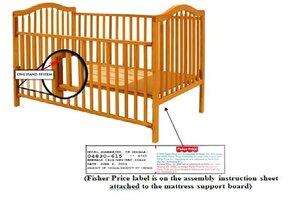 Consumer Product Safety Commission
American and Canadian parents who purchased one of the roughly 2 million Stork Craft cribs recalled by the Consumer Product Safety Commission (CPSC) Monday should immediately stop using them, the Commission says in a press release, after four children suffocated in them.
Stork Craft drop-side cribs bearing the Fisher-Price logo distributed between January 1993 and October 2009 are at risk. Cribs without drop sides or with metal drop-side hardware are excluded. About 1.2 million of the defective cribs were sold in the United States and more than 900,000 in Canada.
However, as early as May 2008, the Commission had concerns about drop-side cribs that had already lead to four deaths stemming from a failure to construct the cribs properly.
In a letter to ASTM International, a group that develops voluntary product standards, CPSC director of engineering services Jonathan Midgett writes, "Some crib designs give the appearance of proper assembly with the drop-side inverted. In this configuration, the drop-side can detach from the crib, possibly creating a dangerous gap that may lead to the entrapment and suffocation of infants."
---