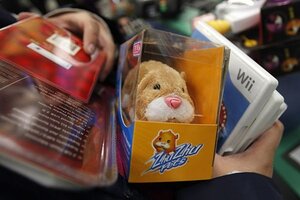 Carolyn Kaster/AP
Can't find this Christmas's hot toy -- the Zhu Zhu Pet -- at a reasonable price?
Try one (or more) of these shopping strategies and, maybe, one of the furry robotic hamsters will be yours without a hefty markup.
1. Create a wish list at Toys R Us. The nationwide retailer seized on the Zhu Zhu Pet craze early and reserved lots of the stock. "We have more Zhu Zhu Pets than anyone else," says Adrienne Giordano, a spokeswoman for the company. "The best strategy for customers is to check early and often."
You can call your local Toys R Us store repeatedly, but an easier solution is to create a wish list online and populate it with the Zhu Zhu Pets and accessories you want to buy. Within an hour of creating mine, I had Mr. Squiggles available online for $9.99 plus $5.00 shipping.
2. Try this quick-buy system recommended by Squidoo. It tracks specific items sold through Amazon.com through HotProductGrabber.com and sends you an alarm so you can grab it fast. (Hat tip to AnnaD commenting on this story.)
---