New Jersey to New Yorkers: Get out in time
(Read article summary)
With Main Street fuming at Wall Street, a New Jersey development across the Hudson River has one word for New Yorkers: Leave.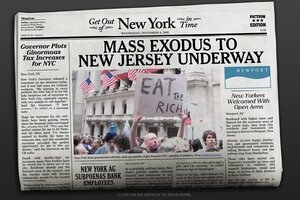 Screen capture from newportnj.com.
A New Jersey development called Newport has a warning for New Yorkers: Get out while there's time.
In an online advertisement styled as a newspaper front page in the style of Gotham's Gray Lady, Newport spoofs wealthy New Yorkers like Mayor Michael Bloomberg and Attorney General Andrew Cuomo to make its point that life is cheaper in New Jersey.
"My solution to every problem the state has is to tax the holy bejeesus out of everyone in New York City, especially anyone with two nickels to rub together," a nameless mayor says in one piece. Later, he adds: "I hate success."
Mr. Cuomo, for his part, plays the role of the "tanned and coifed" civil servant, breaking from prosecuting Wall Streets to sip champaign and admit, "I love the camera. And it sure does love me. This all part of my 'War on anyone with an education and a job,' and I'm winning."
Clicking through the advertisement takes you to Newport's slick homepage. Boasting Manhattan-esque office and apartment buildings along with a short subway ride into the belly of the Big Apple, Newport, a part of Jersey City, says it is home to 30,000 "happy, productive, and appreciated residents, professionals and companies."
So should rich New Yorkers spread their high-thread count sheets in the Garden State? It's not as if surrounding areas haven't profited from New York's riches before. Swaths of New Jersey and Connecticut have seen terraced gardens and double-digit bedroom mansions bloom with dollars earned in the world's financial capital.
---