Obama jobs summit: Do you need a purpose-driven job?
(Read article summary)
After President Obama's jobs summit remarks, here are the top 7 purpose-driven jobs.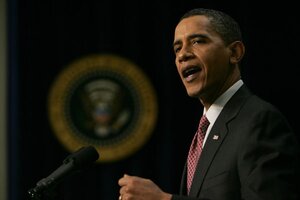 Dennis Brack/UPI
In his opening remarks at Thursday's national jobs summit, President Obama noted that unemployed Americans are missing out on a lot more than income.
"They haven't just lost the paycheck they need to live," Mr. Obama said, "they're losing the sense of identity and dignity that they get from having a job."
Could it be that America's employment gap is also spawning a deficit of purpose? In this vein, here are our Top 7 purpose-driven jobs.
Location: New York
Employer: Citigroup
Description: Coordinate the timely investigation and effective management of all matters referred to the Ethics Office. Prepare regular reports and metrics related to ethics matters and/or customer complaints for distribution to senior management, auditors and regulators. Make appropriate recommendations to improve controls and systems.
Requirements: Lawyer with 3 years experience. Familiarity with financial services industry preferred.
2. President/COO with integrity
Location: Denver
Employer: Startup Guru
Description: Be the "Rock of Gibraltar" for Startup Guru, a company with a system to help entrepreneurial startups from failing at their outset. Tasks include overseeing the prototyping of the Boulder operations and leading the company's national and global expansion.
Requirements: Been an entrepreneur.
---