Unemployment rate falls. Should your job search change?
(Read article summary)
Fall in unemployment rate means you should reenergize your job search.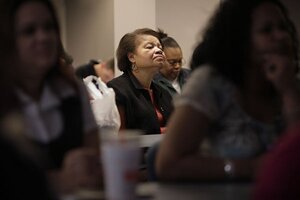 Steven Senne/AP/File
The US lost fewer jobs than at any time in the past 23 months, buoying hopes that the economy may soon start creating jobs.
"This is good news just in time for the season of hope," President Obama said Friday after the Commerce Department reported that only 11,000 jobs were lost in November and the unemployment rate fell to 10 percent from 10.2 percent the previous month.
"For job seekers, it appears that the sky is brightening a bit," says Kate Donovan, managing director of Manpower Business Solutions, the business unit of Manpower that handles full-time recruiting.
So what should job-seekers do in light of Friday's better-than-expected numbers? Adjust your expectations, say recruitment experts, who offer these six tips:
1. Be patient. It's still really hard for most people to find a job (duh!) and the market will stay tight for months to come. "Companies aren't ready to start hiring again," says Bob Damon, president of North America Korn/Ferry, a recruiting firm based in Los Angeles. "They're going to wait to see if this economy really does have legs and where the legs are."
---