Could a consumer group's report lead to a Zhu Zhu pet recall?
(Read article summary)
A consumer group's test says a Zhu Zhu pets recall might be in order after toxic chemicals were discovered on Mr. Squiggles.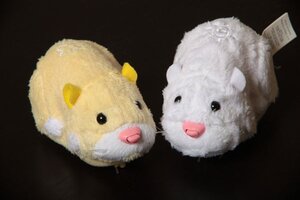 Laguna Niguel/Newscom
Could Mr. Squiggles be harboring too much of two toxic metals? That's the opinion of Good Guide, which released a review Friday in which it found potentially unsafe levels of tin and antimony on Mr. Squiggles. The report raises questions about whether there will be a Zhu Zhu pets recall.
The company that manufactures Zhu Zhu pets, Cepia LLC, reacted strongly to the news, maintaining that there is nothing wrong with its motorized hamsters.
"We are disputing the findings of Good Guide and we are 100 percent confident that Mr. Squiggles, and all other Zhu Zhu Toys, are safe and compliant with all U.S. and European standards for consumer health and safety in toys," said Russ Hornsby, CEO of Cepia LLC, the company that makes Zhu Zhu pets, in a press release.
The Consumer Product Safety Improvement Act of 2008 limits antimony to no more than 60 parts per million. Good Guide says it found 93 ppm in Mr. Squiggles' fur and 103 in its nose.
---