Could a new Google phone, the Nexus One, challenge mobile service contracts?
(Read article summary)
If Google's new phone, the Nexus One, can succeed while being marketed directly to consumers, it could change how mobile phones are sold. But tall challenges remain.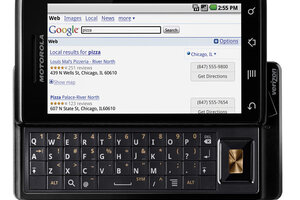 Motorola/MCT
As early as this January, Google could be rolling out the Nexus One, its next move to dethrone the iPhone as mobile technology's "It" phone.
What makes Google's new phone intriguing – from a business perspective – is the possibility that Google could sell the phone directly to consumers without a contractual relationship to a cellphone service provider. This would have at least two effects. First, it would probably mean the phone would cost a bit more than the subsidized $200 consumers are forking over for the iPhone 3GS or the latest Google phone, the Droid.
Second, it would mean that consumers could use the phone on any service that uses GSM technology — that is, runs with a SIM (subscriber identity module) card. Instead of being locked into AT&T or Verizon service, for example, consumers could take their newly purchased technology where they pleased, taking advantages of typically shorter or nonexistent contracts that companies offer when shoppers bring their own phone to the deal.
---