Fed's Ben Bernanke wins committee approval, but tougher road ahead
(Read article summary)
Ben Bernanke faces a tougher path to winning a second term as chairman of the Federal Reserve after a Senate committee's 16-to-7 approval vote.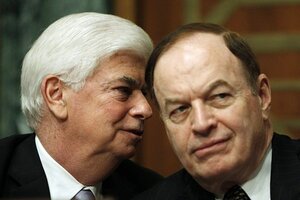 Pablo Martinez Monsivais/AP
Ben Bernanke's road to a second term as chairman of the Federal Reserve has gotten a little trickier.
On Thursday, the Senate Banking Committee voted 16 to 7 to approve Mr. Bernanke's nomination. While that vote moves the nomination to the full Senate, it also represents the most "no" votes a Fed chairman's nomination has received in at least three decades.
If history is any guide, the vote in the full Senate will be even more contentious.
Since 1979, the Fed chairman receiving the most "no" votes from the Senate was Paul Volcker's renomination in 1983. At the time, he had stoked controversy with a tough policy of raising interest rates that pushed the economy deep into recession but managed to wring inflation out of the US economy. He sailed through the banking committee with only two "no" votes and won Senate confirmation 84 to 16.
The other contentious nomination process was Alan Greenspan's in 1996. Trying to win a third term, he cleared the committee on a unanimous vote, but saw his Senate confirmation held up three months because Sen. Tom Harkin (D) of Iowa pushed for and ultimately got a Senate debate on Mr. Greenspan's policies. Eventually, the chairman won a third term on a 91-to-7 vote.
---