With Tylenol recall 2010, a corporate icon stumbles
(Read article summary)
Johnson & Johnson burnished its image with a gutsy Tylenol recall in 1982. But its 2010 recall was long overdue, an FDA report charges.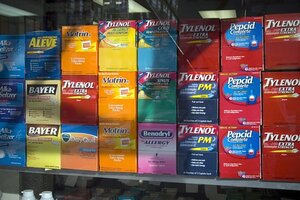 Richard B. Levine/Newscom/File
In a moment of startling corporate clarity, Johnson & Johnson recalled all its Tylenol from US store shelves in 1982 after capsules tampered with in Chicago were linked to six fatalities.
The move cost the company $100 million and threatened to decimate its leading share of the market. Instead, consumers applauded the company's openness and sales rebounded within a year. Three decades later, the move is still regarded as a shining example of corporate social responsibility.
The time it took the company's CEO to make that gutsy call? Six days.
On Friday, a unit of Johnson & Johnson expanded a recall of Tylenol products to other over-the-counter medicines, including Benadryl, Motrin, and Rolaids, because of reports of nausea and other symptoms. The time from those initial reports to Friday's action? Twenty months – and only after the Food and Drug Administration (FDA) had finished an investigation that found multiple problems at the Johnson & Johnson factory.
It's sad to see a corporate icon stumble, especially when the problems are of its own making. The move is a reminder of how fragile corporate reputations are.
Users of Johnson & Johnson's over-the-counter drugs can click here to see which products are being recalled. They can also call the company for help at 888-222-6036 (including weekends).
Less lethal, more embarrassing
---