Toyota recall update: 'We have a remedy.' Will Toyota's fix work?
(Read article summary)
Toyota says it will announce its recall remedy soon. Here's what to look for.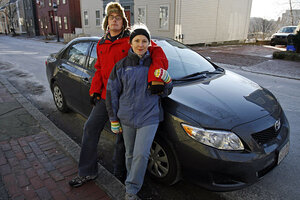 Stew Milne/AP
Sit tight, Toyota customers.
The auto giant is on the verge of announcing a comprehensive recall program for cars that are at risk of a sticky accelerator.
"We have a remedy," says Celeste Migliori, national manager of business and field communications for Toyota Motor Sales. "We're finalizing the details of our accelerator pedal-repair program." It will be released "soon."
For Toyota owners and dealers, it means that they will finally be able to put an end to more than a week of uncertainty after the automaker had acknowledged the problem but had no solution.
Owners of recalled Toyotas who are having problems with the accelerator should contact their dealer (click here or here for a list of the models and symptoms of the problem). Owners with no accelerator problems should check their vehicle identification number (VIN) and call Toyota's hot line: 800-331-4331 (open Monday through Friday from 5 a.m. to 6 p.m. PST and Saturdays 7 a.m. to 4 p.m. PST).
For Toyota itself, another kind of waiting begins. How will the repair program be received by consumers and dealers? Did the corporation's delay so irk car buyers that they will flee to other manufacturers? Is Toyota's brand image destroyed?
That ultimately will depend on how smoothly the repair program goes, but the early indications are that Toyota has built such a strong reputation for quality over the years that it will survive this episode.
---