Toyota recall: Five steps Toyota owners can take now
(Read article summary)
The Toyota recall will take weeks or months to complete, but here are steps owners can take today.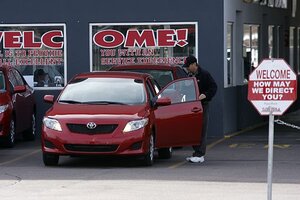 Joshua Lott/Reuters
As early as next week, Toyota may begin fixing the sticky acceleration problem that has caused it to recall 2.3 million vehicles last month, the company announced Monday.
Toyota called it an "effective and simple" solution to pedal wear that, in rare instances, has caused vehicles to accelerate suddenly. But with so many cars involved (and an even larger group of cars with a related floor-mat problem) even a simple fix will take weeks or even months to complete.
What should Toyota owners do? Here are five steps you can take now:
1. Determine if your model is on either recall. Here's a list (click on the chart above for more details):
2005-10 Avalon
2007-10 Camry*
2009-10 Corolla*
2008-10 Highlander*
2009-10 Matrix
2004-09 Prius
2009-10 RAV4*
2008-10 Sequoia
2005-10 Tacoma
2007-10 Tundra
2009-10 VENZA
Models with an asterisk aren't included in the pedal recall if their vehicle identification number (VIN) starts with a J. You can find the 17-character VIN through the window on the driver's side dashboard, on the driver's side pillar by the tire-inflation sticker, or on the vehicle's registration. (Click here for Toyota's Q&A about the fix.)
2. If you have a vehicle with a floor-mat problem, call your dealer. He or she can reshape the pedal and, if you like, replace it with a new pedal when parts become available. Also, Toyota will replace any Toyota all-weather mat with a free newly designed mat. If you don't want the new mat, the dealer will take back the current mat and reimburse you for its price.
---