Can Toyota Digg out of its recall hole?
(Read article summary)
Toyota USA president Jim Lentz appeared on Digg Dialogg to explain how Toyota is addressing its recall problems.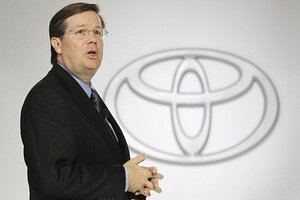 Mark Blinch/Reuters/File
[Editor's note: We corrected some of the spelling in the Digg questions.]
As on-camera interviews with executives go, the Digg Dialogg interview Monday with Jim Lentz, president of Toyota Motor Sales USA, was compelling Internet drama.
It shed light on how Toyota is likely to respond to charges that it knew about sudden-acceleration problems for several years. Even more important, it was an intriguing gauge of what consumers are thinking about the spate of Toyota recalls.
If this democratic approach is the future of investigative journalism, the questions were eye-opening.
For example, a news conference with regular journalists would never have started with this question (the most popular with 285 diggs from the Digg community):
"What do you drive?" Answer: A Lexus hybrid with Priuses for his wife (2006) and his son (2010) -- the model year with reports of brake problems.
The second most pressing question (213 diggs): "How far along is Toyota on moving into some truly gas free cars in the future?"
(Democratic journalism doesn't always get to the point immediately.)
At the same time, there were hard-hitting questions that were more authentic than anything from an investigative journalist:
"I was a General Manager of one of your largest dealerships in the US. I was aware that this problem dates back to 2004. In fact, there was a death involved in a sudden acceleration incident at an Atlantic City Hotel in a Camry that our dealership sold. At this point is Toyota's position going to change as to the dates involved?"
---