Toyota Financial: Great time to buy a Toyota?
(Read article summary)
Toyota dealers are eager to deal, but supplies are limited. So try Toyota's competitors, too.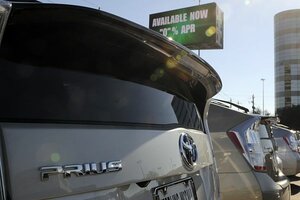 Pat Sullivan/AP
If you're a Toyota fan, convinced that the safety concerns about various recalled models are overblown, this is a good time to visit a Toyota dealership.
The negative publicity surrounding recalled models has dried up traffic for many dealers. In many areas of the United States, there are incentives ranging from 0 percent financing to cash back for various models. But don't expect rock-bottom pricing.
Surprisingly, the recall that has diminished demand has also diminished supply.
"It's not very easy to get a Toyota because of all the fixes they've had to do," says Jessica Caldwell, a senior analyst at Edmunds.com, an online information service for auto consumers based in Santa Monica, Calif. Although Toyota dealers are retrofitting some 50,000 recalled vehicles a day, "there's not a lot of supply out there to purchase."
Some regions of the country are offering better deals than others. "It really depends on the dealers in that area," says Justin Leach, spokesman for Toyota Financial Services, the company's financing arm. You can check the incentives in your area by plugging in your zip code here.
---
Follow Stories Like This
Get the Monitor stories you care about delivered to your inbox.