What are the Top 10 nations for online workers?
(Read article summary)
Numbers are hard to come by, but one US marketplace for online work has compiled a list. The results may surprise you.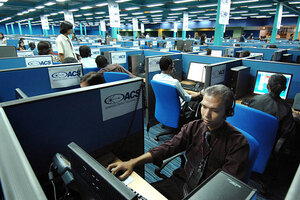 Romeo Gacad/Newscom/File
You probably know someone like this:
They work for everyone and no one. Their job horizon is day-to-day or contract-to-contract. They can be working for someone around the corner or across the globe.
In the 20th century, we called them freelance or contract workers and thought them odd. Now, they're becoming mainstream – not just in the United States, but around the world.
In fact, the US is not the leader in freelance online jobs. India is, followed by the Philippines, and then the US, according to a new report by oDesk Corp.
IN PICTURES: Top 10 nations for online work.
The numbers from oDesk represent just a small slice of the market for online freelancers. But as a leading marketplace for companies and online workers to meet up, across the globe, it has perhaps as good a handle as anybody on how the field is growing.
The Menlo Park, Calif., company has seen its own business double each year since 2004. It hosts some 100,000 employers who post jobs they want done and just under 500,000 freelancers around the world who bid on the work.
The jobs themselves range from data entry to computer programming to translating. In February, oDesk freelancers worked 630,600 hours and earned $7.1 million.
And the places they come from are not always what you might expect.
---