For Toyota, a sudden acceleration of claims
(Read article summary)
As the media has focused on 'runaway' Toyotas like the Prius, more consumer reports of sudden acceleration and other problems are pouring in. Are they legitimate?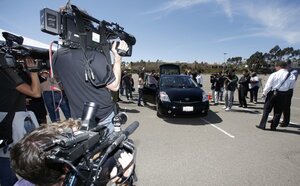 Mike Blake/Reuters
With heavy media attention surrounding sudden acceleration of Toyota cars, the number of consumers reporting problems with their Toyotas has escalated as well.
In February, 1,733 consumers reported problems with Toyotas to the National Highway Traffic Safety Administration (NHTSA), according to the Wall Street Journal. That's triple the number in July 2008, which was before a highly publicized crash of Lexus in August 2009, when a highway patrol officer and three members of his family were killed, allegedly caused by a stuck accelerator.
On the one hand, it's expected that more people report a problem once it's been made public. They may finally have validation for something they've previously experienced.
On the other hand, it's possible that the publicity has spurred spurious reports of problems, says an expert who has examined previous sudden-acceleration claims.
---