Now that Google China says 'no' to censoring, who wins: Google or China?
(Read article summary)
Google China announced Monday that it will stop censoring search results. For both Google and China, the risks are big.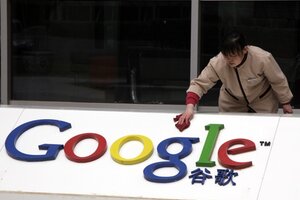 Ng Han Guan/AP
On Monday, the world's largest Internet company, Google, announced it was pulling back from the world's largest Internet market, China.
The Mountain View, Calif., company said it would stop censoring its search services – Google Search, Google News, and Google Images – on its Google China site by redirecting search inquiries to its site based in Hong Kong.
While China has not yet responded, it's possible – even probable – that the government will block access to the search engine in mainland China.
Although the financial impact of this move is small – consensus among analysts is that China makes up less than 2 percent of Google's revenues – the symbolism looms large.
For Google, the move can be seen as a courageous and principled stand against state censorship. But in business terms, it might also come to be seen as a strategic faux pas, an ill-advised retreat from a market with huge potential.
---