Euro zone includes IMF in backup bailout for Greece debt
(Read article summary)
In Brussels, the 16 eurozone nations agree to include the IMF in a backup bailout for Greece debt.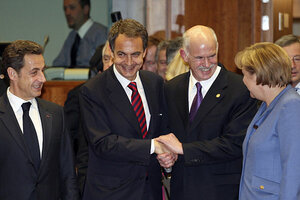 Yves Logghe/AP
On Greece's independence day, leaders of 16 European nations hammered out a bailout mechanism for the financially troubled country that would hit its residents hard.
Greece would only get the bailout if it could no longer borrow from financial markets. The interest rates on those bailout loans wouldn't necessarily be as low as more stable euro nations enjoy. Inevitably, Greeks would earn less income and pay more taxes.
Strangely, one of the more helpful aspects of the plan from the Greek government's perspective is the involvement of the International Monetary Fund in any bailout.
IMF unloved but needed
The IMF is not loved in much of the world. The Washington-based international lending agency forces troubled governments to take tough and unpopular measures to get their fiscal houses in order. But in the case of Greece, it offers two potential advantages.
One is its debt-restructuring expertise. The second is that the IMF could play a key role in keeping a lid on political tensions inside Greece and between Greece and the eurozone nations.
With the IMF calling the shots, the Greek government can blame international bureaucrats for austerity moves when voters begin to complain. The IMF also can act as a buffer between Greece and the rest of Europe.
---