Moscow subway explosions: a blip of terrorism or long-term economic drag?
(Read article summary)
The terrorism behind the Moscow subway explosions could become an economic drag if it changes perceptions of security risks in Russia.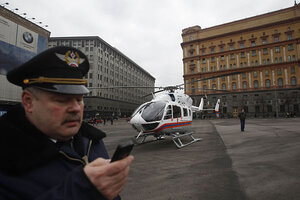 Sergey Ponomarev/AP
The Moscow subway explosions will have a short-term economic impact as Russia's capital city recovers from the twin suicide bombings, which caused at least 38 fatalities.
The long-term economic impact of the terrorist bombings depends crucially on what happens next and how the Russian public interprets it.
If Russian authorities can prevent further attacks, then Monday's bombings will probably not cause much of a blip in Russia's economy. If, however, the explosions mark the beginning of a long terrorist campaign, that could dampen Russia's economic growth, research shows.
"There is quite a lot of evidence that terrorist attacks affect economic activity, but in particular ways," says Alberto Abadie, a public policy professor at Harvard's Kennedy School of Government in Cambridge, Mass. The key is public perception, he adds.
The bombings were timed for maximum impact: during Monday's morning rush hour at two subway stations in central Moscow. First hit was central Lubyanka station, beneath the headquarters of the Federal Security Service (the successor to the KGB). Then another bomb went off in nearby Park Kultury station. Both stations were transfer points to other subway lines.
By themselves, Monday's attacks are unlikely to change security perceptions. The Moscow subway system, one of the world's largest, has been attacked before: four times since 2000. Both subway stations were open again by the evening rush hour, according to news reports.
---